This week we welcome some new additions to the Sentry Box family.
Next time you are in the Store make sure you say hello to Renee, Amanda & Maddie!
What Games have we been playing?
An intergalactic dice game of fleet management for 2-5 Space Base Commodores
As the commodore of a Space Base, your job is to draft new ships into your fleet to work and patrol the 12 sectors under your watch. Use cargo vessels, mining ships, and deploy carriers to earn profits and expand your influence. Only one Space Base commodore will be promoted to U.E.S. Admiral of the Fleet!
Kris and Greg played Space Base on last weeks Facebook live stream and we are expecting it to arrive in the store soon so get your preorders in and earn double Vicinity points!
Bohnanza is a game about planting, trading, and selling beans – 11 kinds of beans (this English version includes all the cards from the original game and the first expansion). Players try to collect large sets of beans to sell for gold. There is limited growing space and always new beans to plant. To avoid planting unwanted beans, players trade them to other players who want them for their bean fields.

Takenoko is a board game for two to four players by renowned designer Antoine Bauza, Takenoko allows you to work the bamboo plantations and care for the Emperor's panda yourself. Colorful miniatures for the giant panda and the Emperor's gardener suit the game's light-spirited tone, and these figures will be critical to your designs to grow the most beautiful bamboo stands. Takenoko includes more than four dozen plastic bamboo sections and twenty-eight beautifully illustrated garden plots, which combine to create a unique take on the art of gardening that is as aesthetically pleasing as it is fun.

Hero Realms is a fantasy-themed deck-building game that is an adaptation of the award-winning Star Realms game. The game includes basic rules for two-player games, along with rules for multiplayer formats such as Free-For-All, Hunter, and Hydra.
Each player starts the game with a ten-card personal deck containing gold (for buying) and weapons (for combat). You start each turn with a new hand of five cards from your personal deck. When your deck runs out of cards, you shuffle your discard pile into your new deck. An 80-card Market deck is shared by all players, with five cards being revealed from that deck to create the Market Row. As you play, you use gold to buy champion cards and action cards from the Market. These champions and actions can generate large amounts of gold, combat, or other powerful effects. You use combat to attack your opponent and their champions. When you reduce your opponent's score (called health) to zero, you win!
Multiple expansions are available for Hero Realms that allow players to start as a particular character (Cleric, Fighter, Ranger, Thief, or Wizard) and fight cooperatively against a Boss, fight Boss decks against one another, or compete in a campaign mode that has you gain experience to work through different levels of missions.
In Small World, players vie for conquest and control of a world that is simply too small to accommodate them all.
Designed by Philippe Keyaerts as a fantasy follow-up to his award-winning Vinci™, Small World is inhabited by a zany cast of characters such as dwarves, wizards, amazons, giants, orcs and even humans; who use their troops to occupy territory and conquer adjacent lands in order to push the other races off the face of the earth.
Picking the right combination from the 14 different fantasy races and 20 unique special powers, players rush to expand their empires – often at the expense of weaker neighbors. Yet they must also know when to push their own over-extended civilization into decline and ride a new one to victory!
OrganATTACK! is a new addition to the Sentry Boxes inventory.  The Family-Friendly game of organ harvesting has been extremely popular and took us a while to bring in even after their successful Kickstarter.
Whilst we are running a Warhammer Fantasy Roleplay 2nd Edition campaign in the store, we are really excited for the upcoming release of 4th Edition from Cubicle 7.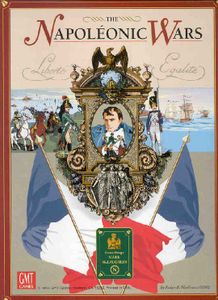 Gord has been playing some more Napoleonic Wars, it brings you a fast-paced, tension-filled, card-driven wargame using a point-to-point movement system that pushes the envelope in a new direction for this pivotal period of history. Having a simple-to-learn strategic system and short rulebook, The Napoleonic Wars, can be played in an evening as the cards and Diplomatic Track make for tough decision-making in the face of everchanging enemy threats.
Set in 1805 Europe, you must weigh the strategic dilemmas facing the two alliances in mortal conflict. Napoleon's France enjoys a superb army, central position, superior leadership, and a useful, if not powerful, ally in Spain. However, she faces three foes.
Napoleon must beware of Britain's seapower and wealth, Austria's threatening position, and Russia's reinforcing hordes. In the wings, Prussia, Turkey, and Sweden teeter on the brink of war, begging inducements to join either side. Even lowly Denmark's fleet can upset the balance of power.
When fleets or armies collide, battle-related cards may be played and then dice are rolled to resolve the battle and inflict casualties. Even the most brilliant maneuver faces the chance of floundering. So play The Napoleonic Wars now, and put the strategist in you to the test. Your options are only limited by your vision, a meddlesome enemy's cards, and the hand of fate.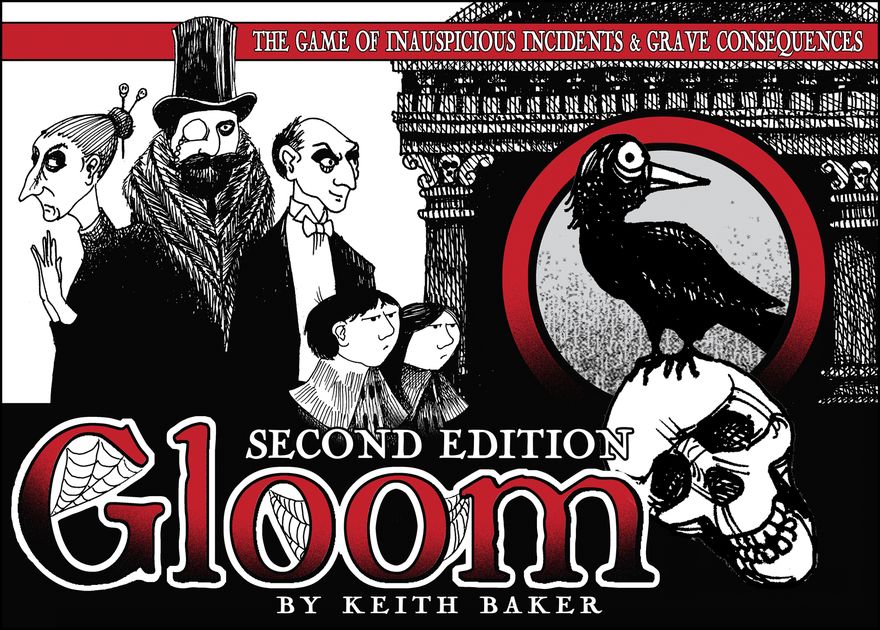 The world of Gloom is a sad and benighted place. The sky is gray, the tea is cold, and a new tragedy lies around every corner. Debt, disease, heartache, and packs of rabid flesh-eating mice — just when it seems like things can't get any worse, they do. But some say that one's reward in the afterlife is based on the misery endured in life. If so, there may yet be hope — if not in this world, then in the peace that lies beyond.
In the Gloom card game, you assume control of the fate of an eccentric family of misfits and misanthropes. The goal of the game is sad, but simple: you want your characters to suffer the greatest tragedies possible before passing on to the well-deserved respite of death. You'll play horrible mishaps like Pursued by Poodles or Mauled by a Manatee on your own characters to lower their Self-Worth scores, while trying to cheer your opponents' characters with marriages and other happy occasions that pile on positive points. The player with the lowest total Family Value wins.
The Maharajah of Rajasthan has decided to build a new capital city called Jaipur, a place of opulence, wealth, and wondrous opportunity—especially for a trader such as yourself. You know the trade routes of this desert region, and you have access to the highest quality spices and silks. In Jaipur, you have a chance not only to become richer than ever before, but to become the personal trader of the Maharajah himself.
Jaipur is a quick, intense, two-player card game that invites you and an opponent compete for the Maharajah's favor. Each turn, you must choose whether to acquire goods and camels or sell your stock for as many rupees as you can, but you cannot do both. At the end of a round, the wealthiest trader earns the Maharajah's seal of excellence. The game lasts until one player earns two seals of excellence and wins!
Pandemic: The Cure is a stand alone, dice-based version of classic cooperative Pandemic board game. Just like the original, you win or lose together as your team travels the globe treating diseases and keeping hot spots in check while researching cures. In this version, though, rolling dice determines everything from the outcome of your actions to the behavior of diseases. Each character has both a unique ability and a set of dice you roll at the start of each turn. Depending on the results, you can fly or sail between population centers, treat diseases in your region, collect samples for further study, or exchange information with other players. Try for the perfect turn by rerolling your unused dice, but each biohazard symbol that comes up brings you one step closer to the next epidemic.
Roll For It! is everything you want in a game. It's fun, it's easy, and it's fast!  The rules are simple. Roll your dice, match a card, and score some points! Be careful, though—other players may challenge you for the card you're after. The first player to collect 40 points wins! Roll For It! is the perfect travel game. Play up to four people with either the red or purple box, or combine the two to entertain up to eight players.
What Books have we been reading?
Davina has been reading Uzumaki, Vol. 1. Shortly after Shuichi Saito's father becomes obsessed with spirals — snail shells, whirlpools, and man-made patterns — he dies mysteriously, his body positioned in the shape of a twisted coil. Soon, the entire town is afflicted with a snail-like disease.

Kris finished The Dirge of Reason, an Arkham Horror novella by Graeme Davis that throws you headfirst into the roaring twenties where tragedy has struck the small town of Arkham, Massachusetts. During an apparent freak accident, the entire New England Virtuosi Orchestra perished and federal agent Roland Banks has been sent all the way from Washington D.C. to investigate. The official report reads, "Explosion, cause unknown." The house looks like a howitzer shell hit it, but nobody knows why and the local authorities weren't encouraged to look very hard. Could it have been bootleggers? A mob hit? Or something more sinister, something unnatural?
Now, you can aide Roland Banks with his investigation. Within the pages of The Dirge of Reason, you will find full-color inserts of the agent's case notes as well as all the evidence at his disposal, including letters, newspaper clippings, and official reports. The hardcover novella also comes with four exclusive cards for Arkham Horror: The Card Game, including an alternate art version of Roland Banks, that enable players to build a distinct deck for the federal agent based on his experiences within the story.
What Hobby Progress have the staff made this week?
Finally, Amanda has been knitting this week.
Thanks for reading folks and let us know what you have been playing.