Here is what our staff have been up to this week.
Games
Red November – A cooperative game in a gnomish attack submarine where everything is going wrong. The sub is descending and the water pressure increasing, the nuclear reactor is overheating, the nuclear missile launchers are pre-igniting, fires and water leaks are everywhere, there's a giant Kraken looming nearby and there's very little oxygen and vodka left. While the storyline feels more and more like a disaster movie, the players must get organized to solve the problems, divide the tasks among themselves to minimize the risks, and sometimes accept to sacrifice themselves for the common cause.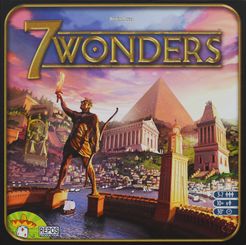 7 Wonders – You are the leader of one of the 7 great cities of the Ancient World. Gather resources, develop commercial routes, and affirm your military supremacy. Build your city and erect an architectural wonder which will transcend future times.
Warhammer Underworlds: Shadespire – A tactical arena combat game. This is a system designed for balanced, small-scale tactical games that can be played quickly and easily by anyone, but which even experienced players will find challenging to master.
Tanks: Panther vs. Sherman – An easy-to-learn, quick play, small-scale game in which you take command of a tank platoon, seeking to destroy your opponent's tanks and secure victory
Rock Paper Wizard – The dragon has been slain, leaving behind a treasure over which to fight, and the players are wizards who are fighting to claim the most gold from the dragon's pile.
First Martians – Built on the core of the award-winning Robinson Crusoe: Adventures on the Cursed Island, First Martians: Adventures on the Red Planet pits players against the hostile Martian environment and a whole host of new adventures and challenges.
Trickster: Champions of Time – A trick-taking game of multidimensional mischief like no other. Featuring a colorful cast of characters, each with unique abilities, no two games will ever be the same! Only the wiliest Trickster will elude the others and live to trick another day!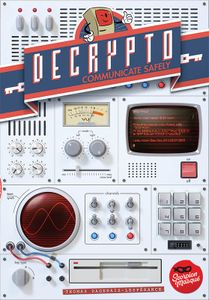 Decrypto – Players compete in two teams in Decrypto, with each trying to correctly interpret the coded messages presented to them by their teammates while cracking the codes they intercept from the opposing team.
Carcassonne – A tile-placement game in which the players draw and place a tile with a piece of southern French landscape on it. The tile might feature a city, a road, a cloister, grassland or some combination thereof, and it must be placed adjacent to tiles that have already been played, in such a way that cities are connected to cities, roads to roads, etcetera
Dungeons & Dragons (5th Ed) – The classic roleplaying game. Ask Gord about his campaign.
Warhammer Fantasy Role Play (2nd Ed) – You are unlikely heroes in a grim world of perilous adventure. You venture into the dark corners of the Empire and deal with the threats that others cannot or will not face. You'll probably die alone in some festering hellhole, but maybe, just maybe, you'll survive foul Mutants, horrible diseases, insidious plots, and sanity-blasting rituals to reap Fate's rewards
Illusions of Glory – Illusions of Glory: The Great War on the Eastern Front is the latest Card Driven Game to simulate the Great War in Europe.  Players test their generalship and strategic abilities as Illusions of Glory lets you recreate the dramatic events of World War I's Eastern Front.