Here is what our staff have been up to this week.
Games
Colony Wars – a deckbuilding game in the Star Realms series which is both a standalone box set for two players and an expansion for the base Star Realms set that allows it to be played as a four-player game.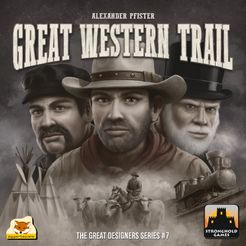 Great Western Trail – America in the 19th century: You are a rancher and repeatedly herd your cattle from Texas to Kansas City, where you send them off by train. This earns you money and victory points. However, the "Great Western Trail" not only requires that you keep your herd in good shape, but also that you wisely use the various buildings along the trail.
Galaxy Trucker – A tile laying game that plays out over two phases: building and flying. The goal is to have the most credits at the end of the game. You can earn credits by delivering goods, defeating pirates, building an efficient ship, and being the furthest along the track at the end of the flying phase.
Tokaido – Each player is a traveler crossing the "East sea road", one of the most magnificent roads of Japan. While traveling, you will meet people, taste fine meals, collect beautiful items, discover great panoramas, and visit temples and wild places but at the end of the day, when everyone has arrived at the end of the road you'll have to be the most initiated traveler – which means that you'll have to be the one who discovered the most interesting and varied things.
The Grimm Forest – Welcome to The Grimm Forest, where family members of the legendary Three Little Pigs are having an epic house building competition. Using only their wits, a handful of sharp steel tools, and a few stacks of resources gathered at great risk from fields, brickyards, and even the dark and deadly Grimm Forest itself, each player must compete to be the first to build 3 Houses and gain the title of Royal Builder.
Azul – Players take turns drafting colored tiles from suppliers to their player board. Later in the round, players score points based on how they've placed their tiles to decorate the palace. Extra points are scored for specific patterns and completing sets; wasted supplies harm the player's score.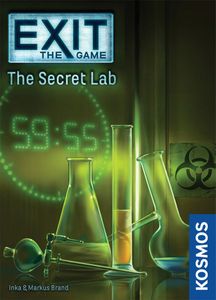 Exit: The Secret Lab – As the subjects of a medical study, the players have checked into a lab, but while they're on time at the site, no one else seems to be there — then they realize that something seems wrong here. Steam has started emerging from one of the test tubes, and they've all gotten dizzy to the point of passing out. When they awaken, they discover that the door is locked and no other way out seems possible. Only a notebook and an enigmatic spinning code dial seem to offer any clues for how to escape the lab…
Tichu – A partnership climbing card game, and the object of play is to rid yourself of your hand, preferably while scoring points in the process.
A Feast for Odin – Players have to hunt, gather basic materials, refine those materials, develop their production-buildings, build/buy ships, and raid settlements.
Napoleonic Wars – Set in 1805 Europe, you must weigh the strategic dilemmas facing the two alliances in mortal conflict.
Charterstone – A competitive legacy game where you construct buildings and populate a shared village. Building stickers are permanently added to the game board and become action spaces for any player to use. Thus, you start off with simple choices and few workers, but soon you have a bustling village with dozens of possible actions.
Painting
Bill is working on a 3D board for the original Space Hulk.  Here are two finished hallway sections to get the paint scheme down.
He also finished two Genestealers to try out paint schemes
And here is work in progress of a couple of terminators from the first squad he is working on. Just a few more highlights and they should be pretty much done.