Here is what our staff have been up to this week.
Games
Space Empires – Space Empires is a game in the finest tradition of 4X space games – eXplore, eXpand, eXploit, and eXterminate. Each player builds up a space empire and uses it to conquer the other players.
Colony Wars – Colony Wars is a deckbuilding game in the Star Realms series which is both a standalone box set for two players and an expansion for the base Star Realms set that allows it to be played as a four-player game.
Animal Upon Animal – A simple stacking game with 29 cute wooden animals.
Tsuro of the Sea – Players each have a ship that they want to sail — that is, keep on the game board — as long as possible. Whoever stays on the board the longest wins the game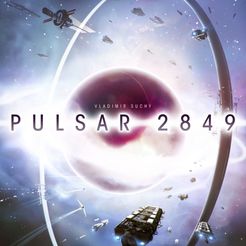 Pulsar 2849 – Draft dice to explore the universe in Pulsar 2849. Each round, roll dice based on the number of players, sort them based on their values, then draft dice to take actions.
Napoleonic Wars – Set in 1805 Europe, you must weigh the strategic dilemmas facing the two alliances in mortal conflict.
Finished! – A puzzle-solving game, a completely new way to play solitaire.
Charterstone – A competitive legacy game where you construct buildings and populate a shared village. Building stickers are permanently added to the game board and become action spaces for any player to use. Thus, you start off with simple choices and few workers, but soon you have a bustling village with dozens of possible actions.
Reading
Reaper Man by Terry Pratchett – 'Death has to happen. That's what bein' alive is all about. You're alive, and then you're dead. It can't just stop happening.'  But it can. And it has. So what happens after death is now less of a philosophical question than a question of actual reality. On the Disc, as here, they need Death. If Death doesn't come for you, then what are you supposed to do in the meantime? You can't have the undead wandering about like lost souls. There's no telling what might happen, particularly when they discover that life really is only for the living