Here is what our staff have been up to this week.
Games
Patchwork – Two players compete to build the most aesthetic (and high-scoring) patchwork quilt on a personal 9×9 game board.
Azul – Players take turns drafting colored tiles from suppliers to their player board. Later in the round, players score points based on how they've placed their tiles to decorate the palace. Extra points are scored for specific patterns and completing sets; wasted supplies harm the player's score.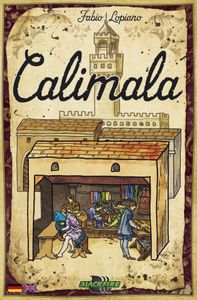 Calimala – Players are cloth merchants in medieval Florence, with a number of trusted employees that they assign to various streets within the city to carry out actions. While taking these actions, players produce and deliver cloth and contribute to the construction and decoration of various buildings across the city.
Lanterns – The harvest is in, and the artisans are hard at work preparing for the upcoming festival. Decorate the palace lake with floating lanterns and compete to become the most honored artisan when the festival begins.
Betrayal at Baldur's Gate – As you build and explore the iconic city's dark alleys and deadly catacombs, you must work with your fellow adventurers to survive the terrors ahead. That is, until some horrific evil turns one — or possibly more — of you against each other.
Dark Souls: The Board Game – A brutally hard exploration miniatures game for 1-4 players.
Rococo – A Eurostyle board game with an interesting take on deck-building. Each turn you play one of your employee cards and let that employee perform a task: hire a new employee, buy resources, manufacture a coat or dress, or invest in the ball's decorations. But not every employee is up to every task, so you must choose and lead your employees wisely.
Qwixx – a quick-playing dice game in which everyone participates, no matter whose turn it is. Each player has a scoresheet with the numbers 2-12 in rows of red and yellow and the numbers 12-2 in rows of green and blue. To score points you want to mark off as many numbers as possible, but you can mark off a number only if it's to the right of all marked-off numbers in the same row.
Dungeons & Dragons – Ask Gord about his campaign.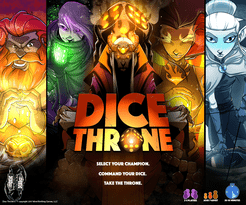 Dice Throne – A fast-paced 2-6 player combat game using dice, tactical card play, powerful heroes, and unique abilities.
Kerala – Each player wants to take at least one tile of each color, and all tiles of one color should be joined together, but of course the players are constantly getting in the way of one another and grabbing the tiles that someone else wants.
Tsuro of the Sea – Players each have a ship that they want to sail — that is, keep on the game board — as long as possible. Whoever stays on the board the longest wins the game.
Tichu – A partnership climbing card game, and the object of play is to rid yourself of your hand, preferably while scoring points in the process.
Pulsar 2849 – Draft dice to explore the universe in Pulsar 2849. Each round, roll dice based on the number of players, sort them based on their values, then draft dice to take actions.
Brutal Kingdom – The King is dead; long live the Queen! Or vice versa, really, as in the intriguing game Brutal Kingdom it's hard to tell what everyone is up to and who will have the greatest impact until it all ends.
Warhammer Fantasy Role Play (2nd Ed) – You are unlikely heroes in a grim world of perilous adventure. You venture into the dark corners of the Empire and deal with the threats that others cannot or will not face. You'll probably die alone in some festering hellhole, but maybe, just maybe, you'll survive foul Mutants, horrible diseases, insidious plots, and sanity-blasting rituals to reap Fate's rewards.
Jaipur – You are one of the two most powerful traders in the city. But that's not enough for you, because only the merchant with two Seals of Excellence will have the privilege of being invited to the Maharaja's court.
A Feast for Odin – Players have to hunt, gather basic materials, refine those materials, develop their production-buildings, build/buy ships, and raid settlements.
Napoleonic Wars – Set in 1805 Europe, you must weigh the strategic dilemmas facing the two alliances in mortal conflict.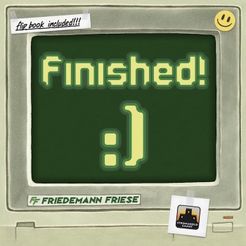 Finished! – A puzzle-solving game, a completely new way to play solitaire!
Terraforming Mars: Venus Next Expansion – The second expansion for the Terraforming Mars base game has players building flying cities and making the atmosphere more hospitable on the deadly planet Venus.
Charterstone – A competitive legacy game where you construct buildings and populate a shared village. Building stickers are permanently added to the game board and become action spaces for any player to use. Thus, you start off with simple choices and few workers, but soon you have a bustling village with dozens of possible actions.
Painting
Kris painted a couple of Nurgle Blight Drones for a commission for Warhammer 40,000