Here is what our staff have been playing this week.
Azul – Players take turns drafting colored tiles from suppliers to their player board. Later in the round, players score points based on how they've placed their tiles to decorate the palace. Extra points are scored for specific patterns and completing sets; wasted supplies harm the player's score.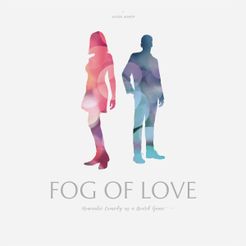 Fog of Love – A game for two players. You will create and play two vivid characters who meet, fall in love and face the challenge of making an unusual relationship work.
Exit: The Forgotten Island – For those shipwrecked on the beach of this forgotten island, a chained boat is the only hope — but the mysterious owner has left puzzles over the whole island. Will the team solve them, free the boat, and escape?
Magic Maze – A real-time, cooperative game. Each player can control any hero in order to make that hero perform a very specific action, to which the other players do not have access: Move north, explore a new area, ride an escalator… All this requires rigorous cooperation between the players in order to succeed at moving the heroes prudently. However, you are allowed to communicate only for short periods during the game; the rest of the time, you must play without giving any visual or audio cues to each other. If all of the heroes succeed in leaving the shopping mall in the limited time allotted for the game, each having stolen a very specific item, then everyone wins together.
Fast Forward: Fear – a fast-paced and straightforward hand management game of tension-filled ghost chasing.  You start a Fast Forward game without reading a rules booklet in advance! Just grab some fellow gamers and discover the rules while playing.
Fast Forward: Flee – a cooperative game of escaping for ambitious puzzle solvers. You start a Fast Forward game without reading a rules booklet in advance! Just grab some fellow gamers and discover the rules while playing.
Warhammer Fantasy Role Play (2nd Ed) – You are unlikely heroes in a grim world of perilous adventure. You venture into the dark corners of the Empire and deal with the threats that others cannot or will not face. You'll probably die alone in some festering hellhole, but maybe, just maybe, you'll survive foul Mutants, horrible diseases, insidious plots, and sanity-blasting rituals to reap Fate's rewards.
Space Empires – Space Empires is a game in the finest tradition of 4X space games – eXplore, eXpand, eXploit, and eXterminate. Each player builds up a space empire and uses it to conquer the other players.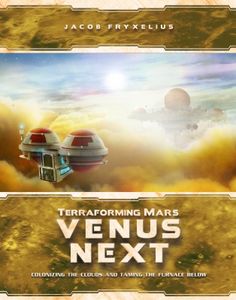 Terraforming Mars: Venus Next Expansion–  The second expansion for the Terraforming Mars base game has players building flying cities and making the atmosphere more hospitable on the deadly planet Venus.
Charterstone – A competitive legacy game where you construct buildings and populate a shared village. Building stickers are permanently added to the game board and become action spaces for any player to use. Thus, you start off with simple choices and few workers, but soon you have a bustling village with dozens of possible actions.