Here is a rundown of the games our staff have been playing this past week
Tzolk'in: The Mayan Calendar – Players representing different Mayan tribes place their workers on giant connected gears, and as the gears rotate they take the workers to different action spots.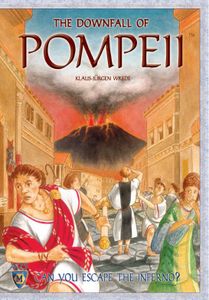 The Downfall of Pompeii – The year is AD 79. Pompeii, sitting at the foot of Vesuvius, is at the high point in its development. People come to the city from far and wide to try to make their luck in the city. So far nobody has dreamed of the danger that will bury all of their dreams under mountains of ash. Who will survive the eruption of Vesuvius unscathed?
X-Wing – A tactical ship-to-ship combat game in which players take control of powerful Rebel X-wings and nimble Imperial TIE fighters, facing them against each other in fast-paced space combat.
The Manhattan Project: Energy Empire – Each player takes control of a nation struggling for power in the latter part of the 20th century. They build up their nation's industry, commerce, and government by acquiring resources, building structures, and tapping sources of energy.
Century: Golem Edition – A re-themed version of Century: Spice Road set in the world of Caravania. Players are caravan leaders who travel the famed golem road to deliver crystals to the far reaches of the world.
Exit: The Game – The Polar Station – An alarm sounded in the eternal ice, so the polar station has been evacuated and foreclosed, but a small group of researchers has remained behind by mistake — and they have only one hour to find the code that will crack the lock program.
T.I.M.E Stories: Estrella Drive – You and your fellow players are members of the T.I.M.E Agency, sent to investigate a disruption to the Time Stream. This time, you and your fellow agents are sent to 1982 to investigate a temporal anomaly in a supposedly haunted Hollywood mansion.
Cutthroat Caverns – A unique combination of cooperative game play and opportunistic backstabbing. Each round, any monster encountered will have a prestige value of 1 through 6. The player that successfully jockeys for position and lands the killing blow gets the prestige value for the encounter. The surviving player with the most prestige after the 9 encounters is the winner. If the players do not survive all 9 encounters, no one wins the game.
Dungeons & Dragons – The classic roleplaying game. Ask Gord and Kris about their campaigns.
Photosynthesis – Sow your crops wisely and the shadows of your growing trees could slow your opponents down, but don't forget that the sun revolves around the forest.
Space Empires – Space Empires is a game in the finest tradition of 4X space games – eXplore, eXpand, eXploit, and eXterminate. Each player builds up a space empire and uses it to conquer the other players