Here is a rundown of the games our staff have been playing this past week.
Agricola – You're a farmer in a wooden shack with your spouse and little else. On a turn, you get to take actions from all the possibilities you'll find on a farm: collecting clay, wood, or stone; building fences; and so on. You might think about having kids in order to get more work accomplished, but first you need to expand your house. And what are you going to feed all the family?
Tiny Epic Galaxies – Each player controls a galactic empire, aiming to expand their influence by acquiring highly contested planets and increasing their cosmic armada.
Tikal – A game of exploration within the Central American jungles in search of lost temples and the treasures within. Players send their team of explorers into the jungle, exposing more and more of the terrain. Along the way, you find temples that require further uncovering and treasures. Players attempt to score points for occupying temples and holding onto treasure.
Genesis: Empires and Kingdoms of the Ancient Middle East – A game covering the turbulent Late Bronze Age in the Middle East, where kingdoms rose and fell while establishing many of the systems and ways of life that underwrite Western Civilization.
Arkham Horror: The Card Game – Something evil stirs in Arkham, and only you can stop it. Blurring the traditional lines between roleplaying and card game experiences, Arkham Horror: The Card Game is a Living Card Game of Lovecraftian mystery, monsters, and madness!
Pandemic Legacy Season 1 – Pandemic Legacy is a co-operative campaign game, with an overarching story-arc played through 12-24 sessions, depending on how well your group does at the game.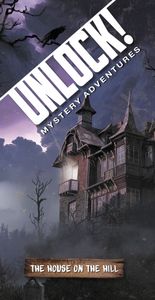 Unlock: The House on the Hill – Strange, paranormal activities have surrounded an abandoned house for the past three days. When an investigation uncovers that these occult occurrences center on an excerpt read from The Book of the Dead, you and your companions are tasked to enter the house, find the book, and stop the curse…
Unlock: The Nautilus Traps – When a sea monster attacks your submarine at the outset of the adventure, it's up to you to make your way through the depths and back to the surface if you're going to escape…before your oxygen runs out.
Unlock: The Tonipal's Treasure – The Tonipal's Treasure sets you at the start of a hunt for the treasure of Captain Smith, hidden somewhere on Tonipal Island. As your adventure begins, you've been arrested by the Governor and thrown into prison — you'll need to escape quickly, especially since Johnson, a famous treasure hunter, is also on his way to Tonipal in search of the very treasure that you seek.
Wind the Film – Time to walk about town and take some pictures! It's the 1960s in Japan, and you have a half-size camera that lets you take half-size vertical pictures. Let's see whether you can put together good shots. In Wind the Film!, you're trying to organize pictures on your roll so that they appear in the right order.
The Climbers – The Climbers / Die Aufsteiger is an easy-to-learn, all-wooden, 3D strategy game.
Dungeons & Dragons – The classic roleplaying game. Ask Kris about his campaign.
Count your Chickens – The baby chicks have flown the coop! All players work together to help Mother Hen collect her chicks and bring them back to the coop.
Animal Upon Animal – The animals want to show how good they are at making tall pyramids! They must be skillfully careful: Who will position the penguin on top of the crocodile, the sheep on top of the penguin, the serpent on the sheep?
Cytosis – A worker placement game that takes place inside a human cell.
Photosynthesis – Sow your crops wisely and the shadows of your growing trees could slow your opponents down, but don't forget that the sun revolves around the forest.
Tortuga 1667 – The year is 1667 and you are a pirate sailing the waters of the Caribbean. A Spanish Galleon floats nearby, and you've talked your crewmates into working together to steal all of its treasure. What you haven't told your fellow pirates is that you have no intentions on sharing the treasure once you have it. Your crewmates have told you that they share your loyalty and that they'll help you maroon the greedy pirates on your ship to the rocky island of Tortuga. But you've seen your friends' loaded pistols and heard their whisperings of a mutiny. You know that nobody can be trusted.
A Feast for Odin – Players have to hunt, gather basic materials, refine those materials, develop their production-buildings, build/buy ships, and raid settlements.
Pandemic Legacy: Season 2 – An epic cooperative game for 2 to 4 players. Unlike most other games, this one is working against you. What's more, some of the actions you take in Pandemic Legacy will carry over to future games.
Terraforming Mars – You play one of the giant corporations terraforming Mars.  You work together in the terraforming process, but compete for  victory points that are awarded not only for your contribution to the terraforming, but also for advancing human infrastructure throughout the solar system, and doing other commendable things
Star Realms – Star Realms is a fast paced deck-building card game of outer space combat. It combines the fun of a deck-building game with the interactivity of Trading Card Game style combat.
Space Empires – Space Empires is a game in the finest tradition of 4X space games – eXplore, eXpand, eXploit, and eXterminate. Each player builds up a space empire and uses it to conquer the other players.
Napoleonic Wars – Set in 1805 Europe, you must weigh the strategic dilemmas facing the two alliances in mortal conflict.