Here is a rundown of the games our staff have been playing this past week.
Terraforming Mars – You play one of the giant corporations terraforming Mars.  You work together in the terraforming process, but compete for  victory points that are awarded not only for your contribution to the terraforming, but also for advancing human infrastructure throughout the solar system, and doing other commendable things.
Colony Wars – Colony Wars is a deckbuilding game in the Star Realms series which is both a standalone box set for two players and an expansion for the base Star Realms set that allows it to be played as a four-player game.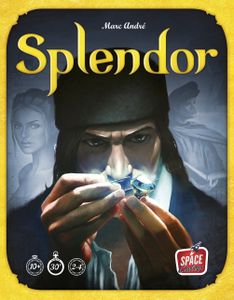 Splendor – Players are merchants of the Renaissance trying to buy gem mines, means of transportation, shops—all in order to acquire the most prestige points.
Ticket to Ride: Europe – Ticket to Ride: Europe takes you on a new train adventure across Europe. From Edinburgh to Constantinople and from Lisbon to Moscow, you'll visit great cities of turn-of-the-century Europe.
Arkham Horror – Arkham Horror is a cooperative adventure game themed around H.P Lovecraft's Cthulhu Mythos. Players choose from 16 Investigators and take to the streets of Arkham.
Mountains of Madness – 1931: Your scientific expedition discovers a new and intriguing mountain range in the middle of the Antarctic polar circle. Under these challenging conditions, the survival of your team will depend on your ability to communicate with each other and to coordinate your efforts to overcome each obstacle — but what you discover on the way to the highest peak will strongly test your mental health.
Scythe – Scythe is an engine-building game set in an alternate-history 1920s period. Each player represents a character from one of five factions of Eastern Europe who are attempting to earn their fortune and claim their faction's stake in the land around the mysterious Factory. Players conquer territory, enlist new recruits, reap resources, gain villagers, build structures, and activate monstrous mechs.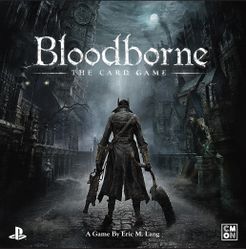 Bloodborne – Bloodborne: The Card Game is based on the Chalice Dungeons in the video game Bloodborne — the ever-changing labyrinths and tombs carved out by the Great Ones beneath the fallen city of Yharnam, where horrifying creatures reside. Players compete to kill monsters and take their blood.
Codenames Duet – Codenames Duet keeps the basic elements of Codenames — give one-word clues to try to get someone to identify your agents among those on the table — but now you're working together as a team to find all of your agents.
Rise and Fall – Players play either Eastern or Western Rome, Persia or a barbarian horde. A strategic game that portrays the last days of Rome.
Seafall – SeaFall is a 4X-inspired game (without player elimination/extermination) set in an "age of sail" world reminiscent of our world.
Dungeons and Dragons – The classic role-playing game. Ask Kriss about his campaign.
The Quest for El Dorado – Players slip into the roles of expedition leaders who have embarked on a search for the legendary land of gold in the dense jungles of South America.