Here is a rundown of the games our staff have been playing this past week.
Terraforming Mars – You play one of the giant corporations terraforming Mars.  You work together in the terraforming process, but compete for  victory points that are awarded not only for your contribution to the terraforming, but also for advancing human infrastructure throughout the solar system, and doing other commendable things.
Star Realms – Star Realms is a fast paced deck-building card game of outer space combat. It combines the fun of a deck-building game with the interactivity of Trading Card Game style combat.
Colony Wars – Colony Wars is a deckbuilding game in the Star Realms series which is both a standalone box set for two players and an expansion for the base Star Realms set that allows it to be played as a four-player game.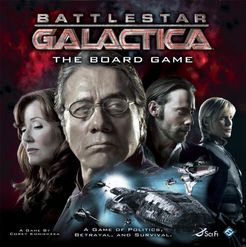 Battlestar Galactica – Players take on the role of one of ten of their favorite characters from the show. Each playable character has their own abilities and weaknesses, and must all work together in order for humanity to have any hope of survival. However, one or more players in every game secretly side with the Cylons.
Splendor with Cities of Splendor – Players are merchants of the Renaissance trying to buy gem mines, means of transportation, shops—all in order to acquire the most prestige points. Cities of Splendor is a quartet of expansions for use with the Splendor base game
X-Com – An abstract skirmish level squad combat board & card game for 2 players, based on the X-Com video games. One player plays X-Com units, the other the Aliens.
Tiny Epic Galaxies – Each player controls a galactic empire, aiming to expand their influence by acquiring highly contested planets and increasing their cosmic armada.
Clank! – Burgle your way to adventure in the deck-building board game Clank! Sneak into an angry dragon's mountain lair to steal precious artifacts. Delve deeper to find more valuable loot. Acquire cards for your deck and watch your thievish abilities grow.
Raptor – Mamma Raptor has escaped from her run and laid her eggs in the park. A team of scientists must neutralize her and capture the baby raptors before they run wild into the forest.
That's a Question! – This party game takes the familiar format of challenging others with questions, then voting on what they'll say.
Here I Stand: Wars of the Reformation 1517-1555 – This wargame covers the political and religious conflicts of early 16th Century Europe.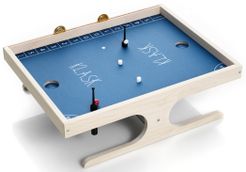 Klask – Your gaming piece is a black magnet controlled by holding a large magnet under the board. The purpose of the game is to push the small ball around on the field with your magnet/gaming piece, shoot the ball past the obstacles and your opponent and into the goal hole.
Dice Forge – In this dice crafting game, players build their own dice. Roll your dice, manage your resources, complete ordeals before your opponents and explore multiple winning strategies.